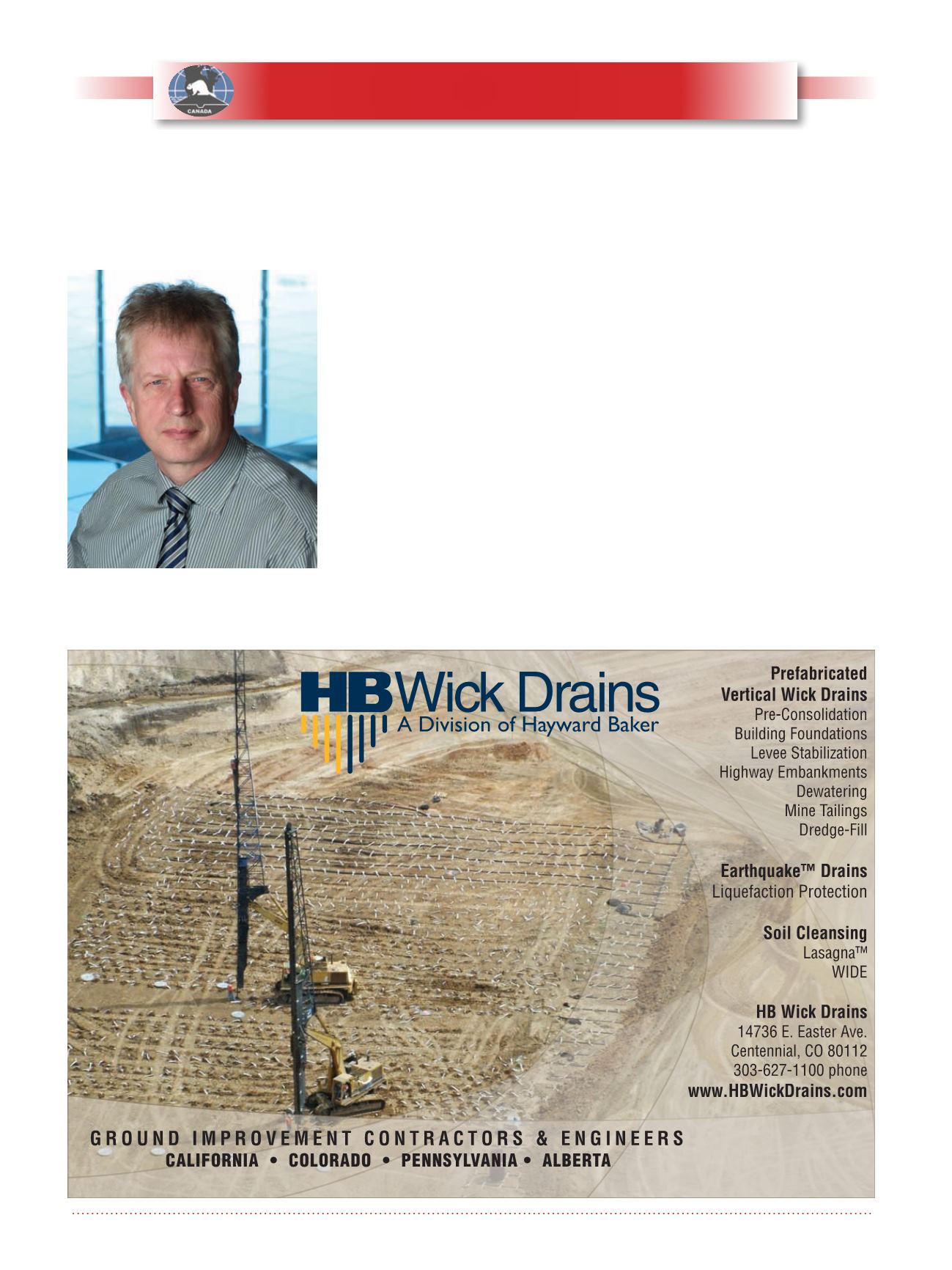 6
Geotechnical News • September 2012
CANADIAN GEOTECHNICAL SOCIETY NEWS
Message from the President
In June I had the pleasure of attending
the 11th International & 2nd North
American Symposium on Landslides
from June 4th to 8th. Mr. Corey Fro-
ese was the Chair for the symposium
with Dr. Erik Eberhardt chairing the
Technical Committee. The Symposium
also hosted the Council Meeting of
the IAEG, the International Associa-
tion for Engineering Geology and the
Environment. I attended the council
meeting on behalf of Canada and had
the pleasure of meeting President Car-
los Delgado and members of the IAEG
Council. The Symposium attracted
450 people to the Banff Springs Hotel.
The venue was especially appropriate
because construction of the CPR rail-
way through the Bow Valley and over
the Kicking Horse Pass was arguably
the start of engineering geology in
Western Canada. One can almost hear
Gordon Lightfoot's railroad trilogy
echoing from the halls of the hotel.
Attending such a Symposium reveals
the calibre of Canada's contribution
to landslide technology. Our Drs.
Doug Stead, Oldrich Hungr, and Serge
Leroueil gave keynote/invited lectures
which were masterful. I also enjoyed
the keynotes by Dr. D.H. Cornforth of
the US and Dr. D. Petley of the UK.
Unfortunately, I had to leave on Thurs-
day morning to attend the EIC Awards
dinner in Edmonton that evening.
Leaving with me was Dr. Doug Stead
of SFU who became a Fellow of the
EIC that evening as did Dr. Hesham El
Naggar of the University of Western
Ontario. As you will know from prior
announcements, Dr. Kerry Rowe
received the Sir John Kennedy Medal,
Bryan Watts, President of Canadian
Geotechnical Society.