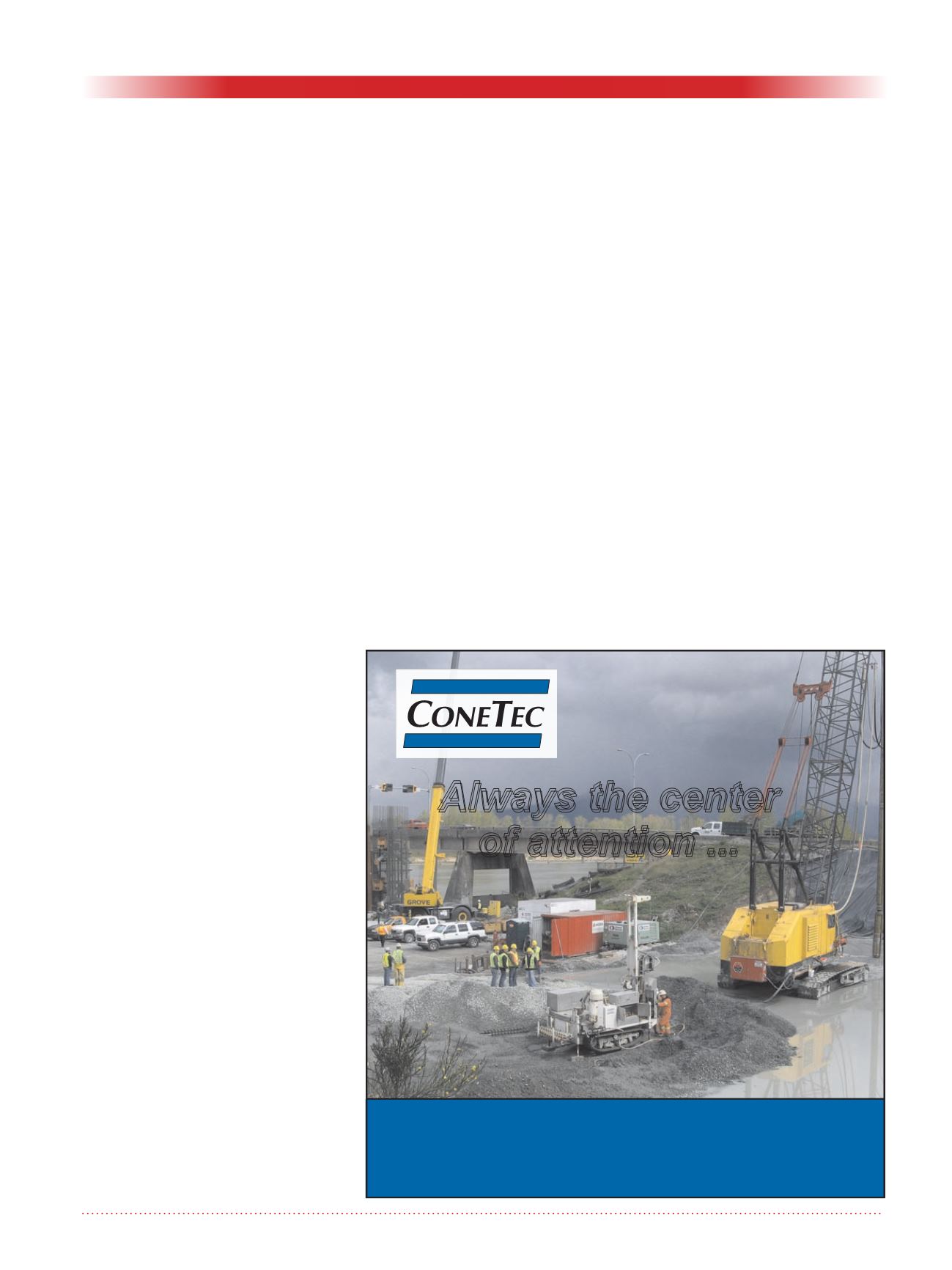 Geotechnical News • September 2012
9
CANADIAN GEOTECHNICAL SOCIETY NEWS
North American Geosynthetics Society
GéoMontréal
2013.
The Conference will be held
Hilton Montreal Bonaven-
ture
located in downtown Montreal,
Quebec, Canada from September 29 to
October 2, 2013. GéoMontréal 2013
will jointly present the 66th Canadian
Geotechnical Conference, the 40th
Annual IAH-CNC Congress and the
NAGS Conference. The technical
program is designed to meet the needs
of practitioners in the geotechnical,
hydrogeological and geosynthetics
The conference organizing commit-
tee invites members of the Canadian
and International geotechnical and
hydrogeological communities to
contribute recent research develop-
ments and advancements in geotechni-
cal engineering, engineering geology,
rock mechanics, soil mechanics and
foundations, mining geotechnique,
cold regions engineering, geoenviron-
mental engineering, geosynthetics and
hydrogeology. The conference will
cover a wide range of topics, includ-
ing special sessions that are of local
and national relevance to the fields of
geo-engineering and hydrogeology. In
addition to the technical program and
plenary sessions, the conference will
include a complement of local tours,
workshops and short courses.
Authors are invited to submit abstracts
through the conference web site
be launched just after the GeoMani-
toba 2012 conference in Winnipeg.
Abstracts can be written either in
the deadline for
abstract submission will be January
14, 2013.
Invitations for submission
of full papers will be sent to authors
whose abstracts are accepted by the
conference's Technical Committee by
March 1, 2013
will be reviewed prior to final accep-
tance for inclusion in the conference
proceedings, which will be also avail-
able on CD-ROM. At least one author
of an accepted paper must register for
Please look for more details this fall
GéoMontréal 2013
members will receive e-news details
of the conference website launch and
the Call for Abstracts in October.
Questions regarding sessions, topics
and the technical program should be
directed to the Local Organizing Com-
mittee contacts given below:
For Technical Program Inquiries,
Geotechnical
Vice-president technique/Technical
Hydrogeological
Quebec Representative for the IAH-
Canadian National Chapter
Geosynthetics
Quebec Representative for NAGS
For General Inquiries
Editor
Phil Bruch, P.Eng.
Principal, Senior Geotechnical
Engineer
Golder Associates Ltd.
1721 – 8th Street East
Saskatoon, SK S7H 0T4
T.: 306-665-7989, F: 306-665-3342,
E:
Specialized Site Investigation Services
West 1-800-567-7969 • East 1-800-504-1116
Vancouver, BC • Edmonton, AB • Salt Lake City, UT • West Berlin, NJ • Charles City, VA